Get the Perfect Palm Beach Vibe: 3 Must-Have Accessories for Your Summer Vacay
Summer is just around the corner and it's time to start planning your vacation! Whether you're hitting the beach or exploring a new city, you'll want to look and feel your best.
And what better way to do that than with some stylish and handmade accessories? Here are three South Floridian brands that will add some Palm Beach vibes to your vacay:
Bali Rattan Handbags from Ganapati Crafts Co.
Nothing says summer like a cute, woven handbag. And
Ganapati Crafts Co
's Bali Rattan Handbags are just the thing you need to complete your getaway outfit.
Handmade by skilled artisans in Bali, these bags are not only stylish but also eco-friendly. Made from natural rattan and featuring intricate designs, they are perfect for your summer outfit - Check out their Bali rattan shoulder bags!
Italian Leather Sandals with Crystal Decoration from Enrico de Rosa
For a touch of luxury on your vacation, look no further than Enrico de Rosa's Italian Leather Sandals. Made with the authentic italian leather and adorned with sparkling crystals, these sandals will add a touch of glamour to any outfit. 
High-Quality Turkish Cotton Beach Towel from Aquaunique
No beach vacation is complete without a good quality beach towel, and Aquaunique has got you covered.
Made from high-quality Turkish cotton, these towels are soft, absorbent, and quick-drying. They come in a variety of colors and designs, so you're sure to find one that matches your style. And when you're not using it at the beach, it makes a great picnic or camping blanket too.
Get in the Palm Beach Mood with These Handmade Accessories
Add some Palm Beach vibes to your vacation and support local businesses by checking out these handmade, high-quality accessories from Ganapati Crafts Co, Enrico de Rosa, and Aquaunique.
Whether you're lounging on the beach or exploring a new city, these unique pieces will elevate your vacation and make it even more memorable.
Author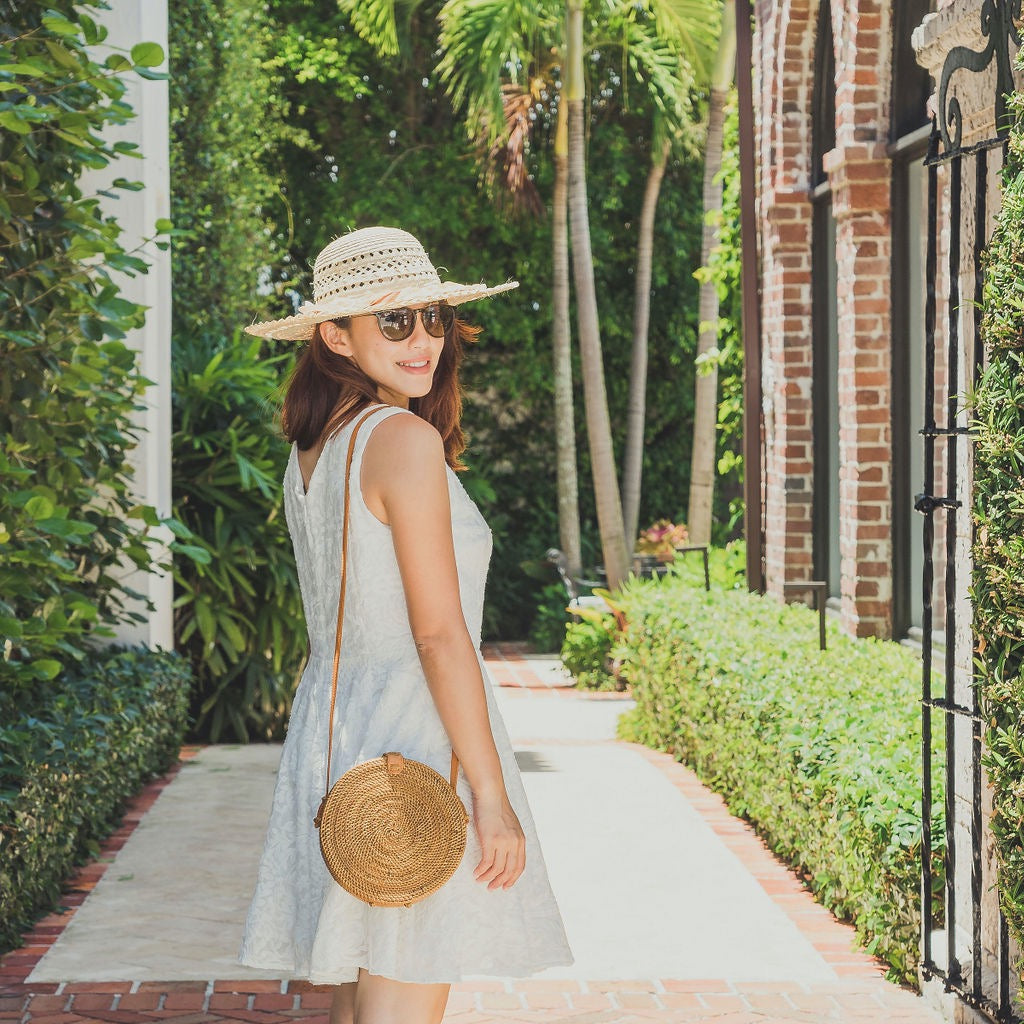 Yian Chang
Owner of Ganapati Crafts Co.
Yian, a Taiwanese Floridian, operates as a handicraft vendor, offering a range of charming and unique products including felt finger puppets, nursery decor, holiday ornaments, and handwoven bags. Be sure to visit Yian's brand, Ganapati Crafts Co., to explore her creative and one-of-a-kind creations.