Hop on the Brightline to West Palm Beach for a Fun Saturday Trip: Coffee, Shopping and More
If you're looking for a fun day trip to West Palm Beach on a Saturday, here's a suggested itinerary that includes some of the best activities and places to visit in the city:
8:30 am Take Brightline to West Palm Beach
Start your day by taking the early Brightline from the south at 8:47 AM to West Palm Beach and arriving at 10:07 AM.
This high-speed train will get you to your destination quickly and comfortably, and you can enjoy the complimentary Wi-Fi onboard.
Miami to West Palm Beach: 1hr 20 mins
Fort Lauderdale to West Palm Beach: 45 mins 
Boca to West Palm Beach: 27 mins
10:10 AM Visit Independent Coffee Shop like 
Salento Coffee or Subculture Coffee.
Once you arrive at the station, take a short walk for no more than 5 minutes to reach Clematis Street and grab a cup of freshly brewed coffee at an independent coffee shop such as Salento or Subculture Coffee. These local spots are known for their excellent coffee and friendly service.
10:30 AM - West Palm Beach Antique & Flea Market
As you make your way onto Clematis Street, explore the West Palm Beach Antique & Flea Market, where you'll find an impressive array of high-quality artisanal goods and vintage treasures.
Be sure to check out the unique vendors, such as Ganapati Crafts for needle-felted finger puppets and nursery decor, Vicis Designs for resin seascapes artwork, and Talizmani for Bohemian jewelry.
11:00 AM - West Palm Beach Green Market
Take a walk down Clematis Street towards the Waterfront Park, where you'll find the award-winning West Palm Beach Green Market. This market was named The Best Farmers Market in America by the USA Today 10 Best Readers' Choice Poll in both 2021 and 2022.
Here you can buy fresh produce, cheese, juice, spices, and even authentic French croissants from local bakeries such as Loic bakery.
Enjoy the lively atmosphere and take in the sights and sounds of the market.
12:30 PM - Lunch at Bradley's Saloon
Head to Bradley's Saloon for lunch, where you can enjoy classic American fare in a casual, laid-back atmosphere. Try their famous burger or their fried chicken sandwich, or opt for a salad or wrap.
2:00 PM - Worth Avenue
Take an Uber to Palm Beach Island and discover the world-renowned shopping district of Worth Avenue.
This luxurious street is home to high-end boutiques, art galleries, and restaurants. Take your time and explore the many shops and boutiques that line the avenue.
Don't forget to explore the quaint alleyways and charming courtyards off Worth Avenue, where you'll find hidden gems like Enrico De Rosa's Italian leather sandals. His handmade sandals are famous for their quality and comfort and can be customized with crystals, making for a perfect souvenir or gift.
3:30 PM - Piccolo Gelato
If the afternoon heat is getting to you, indulge yourself in some handmade Italian gelato at Piccolo Gelato.
4:00 PM - Take Photos
As the heat subsides, be sure to explore the many Instagrammable corners in Palm Beach, including the Peruvian Avenue's blue Door, Via Parigi, Piccolo Mondo Restaurant, Via Mizner Steps, Major Alley, The Colony Hotel, and Worth Avenue Clock Tower.
These spots offer unique and beautiful backdrops for your photos, providing the perfect opportunity to capture lasting memories of your trip.
6:00 PM - Dinner at Buccan
Indulge in a delicious dinner at Buccan, a renowned restaurant in Palm Beach that offers modern American cuisine. Experience Clay Conley's inventive cooking style and savor the freshest ingredients sourced from the very best places.
Buccan is a popular destination for foodies, and the restaurant's warm and inviting ambiance is perfect for winding down after a day of exploring. Enjoy a memorable dining experience and treat your taste buds to a delectable meal at Buccan.
8:36 pm End Your Perfect Day Trip with a Comfortable Ride on the Brightline
At 8:36 PM, hop on the Brightline train to head back home. Sit back, relax, and reflect on the unforgettable memories made during your day trip to Palm Beach area. The high-speed train will ensure a comfortable and efficient journey back to your destination.
Author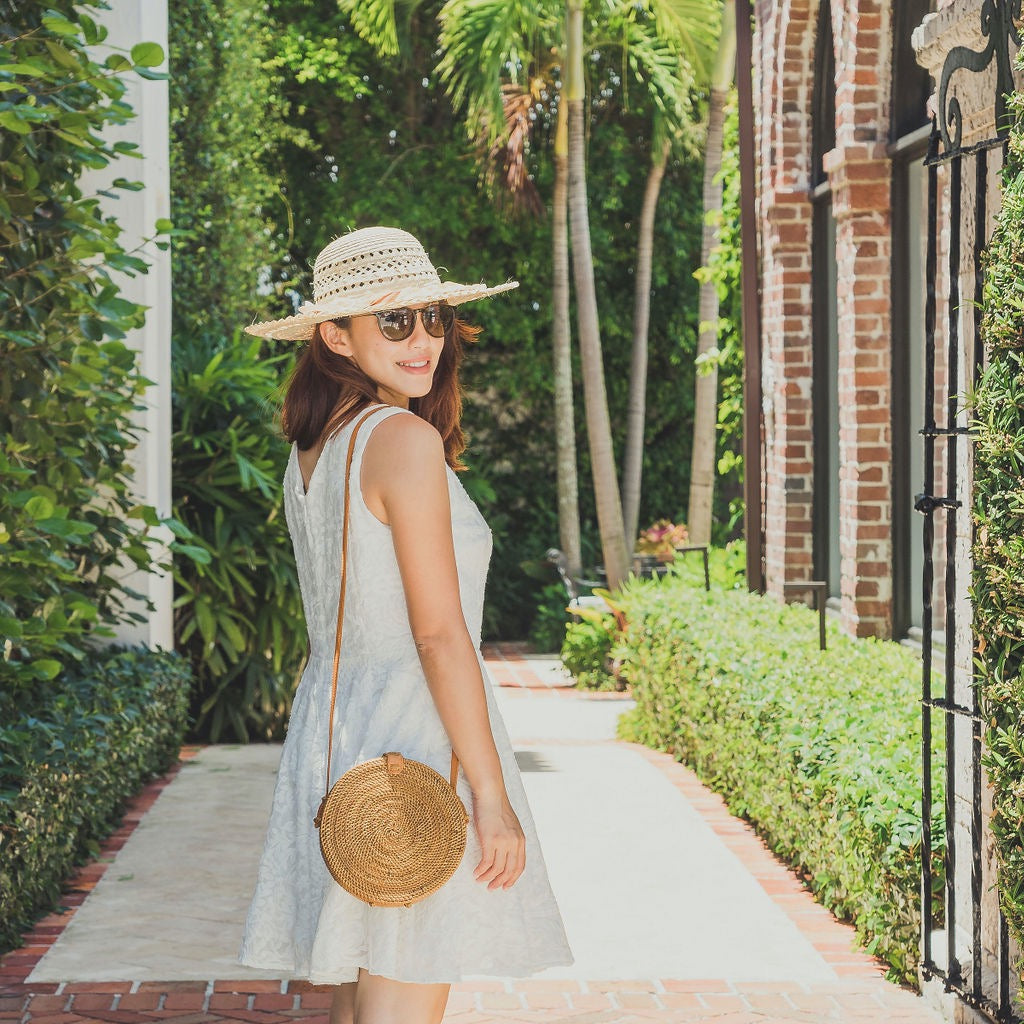 Yian Chang
Owner of Ganapati Crafts Co.
Yian, a Taiwanese Floridian, operates as a handicraft vendor, offering a range of charming and unique products including felt finger puppets, nursery decor, holiday ornaments, and handwoven bags. Be sure to visit Yian's brand, Ganapati Crafts Co., to explore her creative and one-of-a-kind creations.